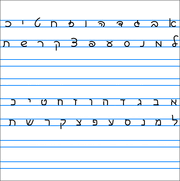 In the ZigZag World game suite there are a number of short, Java games that center on Judadism and learning Hebrew. The game I will be reviewing is entitled "AlefBet Go! Challenge". The object of the game is to arrange the Hebrew letters in alef-bet order in four different rows. You can earn a higher score by using all 22 letters, by using more letters, and filling an entire row with letters. If you put a letter in the wrong row or order, it disappears and you don't receive any points. The game can be played in two different modes: timed and untimed with the timed occurring in 30, 60, and 90 second modes. When you first look at the game, you are encouraged to click on the Hebrew Alef- Bet link that shows you the order of the letters in both print and script. After thoroughly "jogging your memory" you can click on the link that brings you to the game. At the end of the game, you are told the number of points you obtained and the length of time that you played.

While the game is loading, the player encounters two things: A warning declaring that the game is difficult and should play at their own risk and the directions of the game that only stayed on the screen for 10 seconds, not nearly long enough to fully grasp and understand them. Being a person who is not at all familiar with the Hebrew alphabet I found the game to be extremely difficult. Since the Hebrew Alef-Bet was not located on the same page, I had to open it on another page in order to complete the game. Another problem that I encountered in the game was that the letters did not look exactly like the letters in the game which made completing the game during even the 90 second timed game nearly impossible.
This game like all the games on the ZigZag website assumes that are you are already familiar with the Jewish faith and Hebrew language and are there merely to enforce what you are already know. This is seen in the lack of explanation in the game and the short length of time that the instructions remained on the screen. Thus the purpose of the game is not to recruit people to the Jewish faith but rather help people that are already familiar with the religion.